79 55N 13 08E, and the latest events are a whale which just came out of the water at about a cable from us to say hallo to a rain-frozen Anja on watch, and the happiness which stroke today's scriba in that emacs could be used to compile this report instead of some obscure Eudora editor (thanks Pedro!).
Gloomy soviet Barentsburg is by now about 200 miles behind us. The last traces of black coal powder have long gone from the deck, and skipper Peter is not so disappointed by the first rain in a couple of days, which is completing a proper fresh-water washing of the sails.
Much water has been flowing below Imram's hull in the last few days and many stories deserve to be told. After a meal of meat and vegetables, prepared by the british side of the crew, mooring lines were cast off a last time, for now, from Isfjorden and light drizzle and soft fog were with us again, watch after watch. Mile after mile the GPS and the radar guided us north through Fordlandetsundet, a long passage with some tricky parts, between Spitsberg and the Prins Karl island. Our disappointment for the low visibility and missing out a
supposedly amazing view, was fastly washed away once in sight of Kongsfjorden, the Kings bay, and our next destination: Ny Alesund.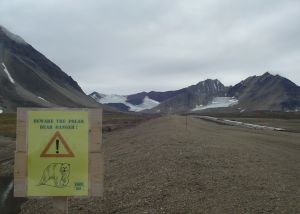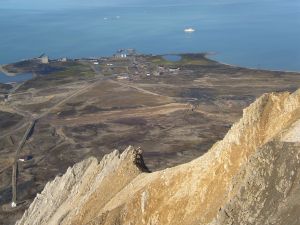 Sun was shining over the bay and this little settlement, of about 200 people, mostly scientists studying arctic climate, geology and fauna. A former mining town dating back to 1917, Ny Alesund was converted in 1968 to a scientific mission, and now has a CERN atmosphere to it, with students from all over the world coming over
for summer to make their measurements in the hope of putting together a Ph.D. thesis... Two landmarks stroke us, the first being a big white satellite antenna pointing straight into the sky, to chat with
polar-orbit satellites, high technology with the background of a wild and unforgiving nature. A second, older, lone pillar of weathered iron fascinated some of us. It was the mooring mast of Admunsen's (and
Nobile's) zepelins which flew to the north pole. We were to get a glimpse, further north, of the ruins of an other hangar used in those heroic pioneer days of the Thirties.
We were surprised to hear a VHF call "Swiss boat arriving in Ny Alesund, Swiss boat arriving in Ny Alesund, Swiss boat arriving in Ny Alesund" to inform us that divers were in the almost freezing water
and we had to exercise some care to moor in the little harbour. Once squeezed our way between a cargo ship and the forest of zodiacs of the research station, we were welcomed by a known face: one of the guys
working at the Polish research base in Hornsund was indeed on the cargo ship and rushed to help us out with the moorings.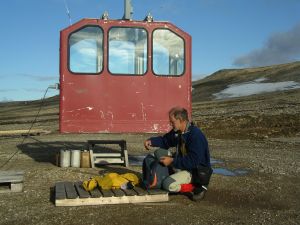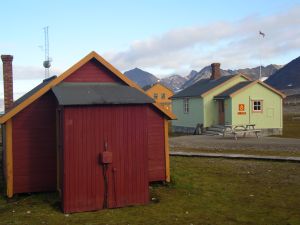 Précédent | Index 2004 | Suite de l'aventure
The Imram Voyage 2004 - Integral 12.50 - ACAPELA, juillet 2004