The Norse Gods are with us. While the Spitsbergen average for sunny days is one per month, we have had only one cloudy day in the last six. This clear, still weather has unfortunately meant that our return to Longyearbyen has been mostly under motor, but at least we have had a stable deck from which to view and photograph the fantastic array of glaciers and peaks.
Yesterday we entered Kongsfjord and anchored right in front of the huge ice cliffs that terminate the Blomstrandbreen Glacier. The chances of a large chunck of ice breaking off and generating a tidal wave were judged to be rather small. But you never know.......
While Peter, Lucy and Nick set off to sharpen their shooting skills (in case a polar bear should unexpectedly ambush them), the rest of the group had a go at ice climbing the glacier face. Now, ice climbing over the sea is already a pretty unique experience, but when each axe blow showers you with ice fragments mixed with moraine dirt, the results are spectacular. Rob added to this by sinking knee-deep into the semi liquid mud that oozed from the glacier's snout. Isabelle led the way up the ice face after clearing away the top 15 cm of friable ice conglomerate to expose the solid blue ice beneath. The mud at the foot of the glacier did eventually serve a useful purpose as it revealed the recent passage not only of reindeer, but also the huge paw marks of a polar bear.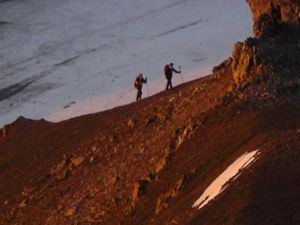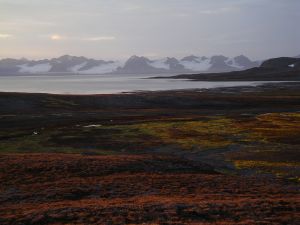 | | | |
| --- | --- | --- |
| | | Today we had the last chance of a mountain walk during this leg around Spitsbergen and set off up Scotia-fjellet on Prins Karls Forland. The hour-long approach to the mountain allowed us to spot reindeer only 100 metres away. But the really surprising aspect was that the ascent ridge was not the usual stoney moraine but a steep mossy garden. In the evening light, the subtle colouring of the myriad of lichens, flowers and mosses was a sheer delight. But the underfoot sensation was that of walking up a 40 degree foam mattress, and in the back of our minds was the thought that the moss layer might just unroll under our boots like a badly fixed stair carpet. |
In the apricot-coloured midnight sunlight, the walk along the summit ridge and down the easy angled moraine was pure magic.
Précédent | Index 2004 | Suite de l'aventure
The Imram Voyage 2004 - Integral 12.50 - ACAPELA, juillet 2004